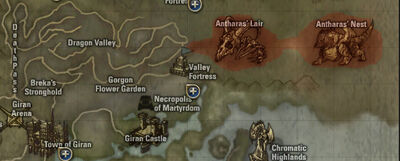 The Lair of Antharas is a level 60+ hunting area located northeast of Giran, at the end of Dragon Valley. It is also known as Dragon Valley Cave.

According to the legend, all dragons of the world come to this place before they die. The innermost cave of the valley houses Land Dragon Antharas - one of the six ancient dragons.
After Antharas was defeated in the war with the gods, he sought sanctuary in this cave, where he yet resides. It is in this very dangerous place where Antharas has regained his enormous power and summoned monsters nearby.